Why Awandee bathroom mirrors are safer to use?
Awandee bathroom mirrors are certified by ETL USA
ETL is the abbreviation of Electrical Testing Laboratories in the United States. ETL laboratory was founded by American inventor Edison in 1896 and enjoys a high reputation in the United States and the world. Like UL and CSA, ETL can test and issue ETL certification marks according to UL standards or American national standards.
Approval of electrical products is mandatory in most areas of the United States. ETL's listed products are recognized by "Authorities Having Jurisdiction" and can be considered "approved".
ETL needs to conduct a factory inspection before issuing the certificate, and will also conduct irregular follow-up factory inspections every quarter. If required, inspectors can witness re-testing of the product or take a sample and test it in the laboratory.
The licensee must sign a statutory contract (service agreement) with ETL, which clearly defines the manufacturer's responsibilities and the conditions for continuous ETL listing and use of the ETL mark.
Tempered glass

Awandee bathroom mirrors use a physically toughened glass process to enhance the glass.
When ordinary flat glass is heated in a heating furnace to a temperature close to the softening temperature of glass (1100 degrees Fahrenheit), the internal stress is eliminated through its own deformation, then the glass is removed from the heating furnace, and high-pressure cold air is blown towards the glass by a multi-head nozzle. Tempered glass can be obtained by cooling it to room temperature quickly and evenly on both sides.
Tempered glass is safety glass. It forms compressive stress on the glass surface. When the glass is subjected to external force, it first offsets the surface stress, thereby improving the bearing capacity and enhancing the glass's own resistance to wind pressure, cold and heat, and impact.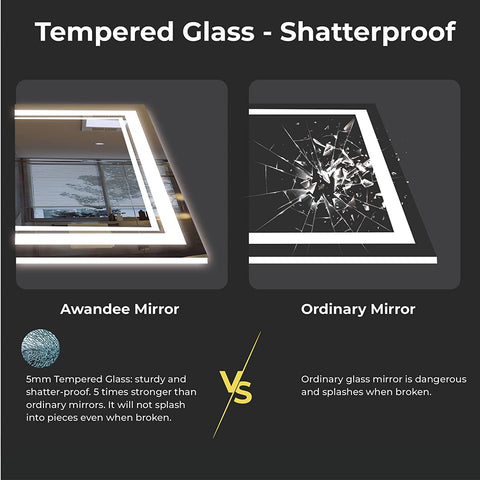 Advantages
It is safe to use. When the glass is damaged by external force, the fragments will be broken into small particles with obtuse angles similar to honeycombs, which are not easy to cause serious harm to the human body. The increased bearing capacity improves the fragile nature, even if the tempered glass is damaged, it will be small fragments without acute angles, which greatly reduces the damage to the human body. Compared with ordinary glass, the resistance to rapid cooling and rapid heating of tempered glass is improved by 3 to 5 times. It is a kind of safety glass, which can provide the safety of qualified materials as a guarantee.
High strength
The impact strength of tempered glass with the same thickness is 3 to 5 times that of ordinary glass, and the bending strength is 3 to 5 times that of ordinary glass.
Thermal stability
Tempered glass has good thermal stability and can withstand a temperature difference three times that of ordinary glass, and can withstand a temperature difference of 300°C.So it is corrosion resistant. After 30 days of acid testing, it will not corrode.
The above is the knowledge about tempered glass brought to you today, hope Awandee bathroom mirrors can bring you a safer home life.