What do our clients think of Awandee's Led Bathroom Mirrors?
We've received a lot of feedback and comments from our customers recently, let's see what they say.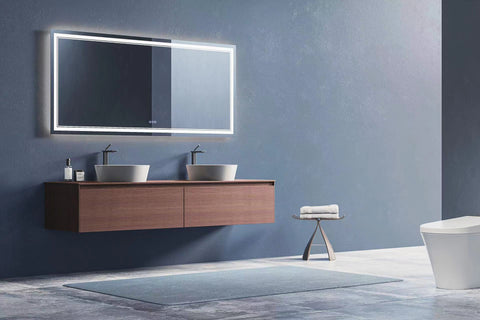 1. "I got Awandee, tote and one more brand. I liked the Awandee best here are following reasons:1. Easy installation. It comes with bracket. Just level then and hang as simple unlike other lED mirror where you need to make 4 holes and adjust which is Herculean task for DIY perspective. 2. It has front and back lights which make this beautifulI."
2. "It was great. My electrician had to cut open the white paper box on the back and rest the wires to figure out which one was the neutral wire and which one was the other wire but install was pretty straight forward. It was heavy to install so make sure you have at least two strong people. ALSO, make sure when you hang it, that it's actually on the bracket and not on the frame of the mirror! The de fogger works great, mirrors are pretty bright and haven't had any issues. I've had this for about two years with daily use. My electrician used the wires from the existing pendant light so we're able to turn it off with the existing wall switch."
3. "Ever go to a luxury high-end resort hotel, this is the mirror that we put in ours. Just at the touch of a button it changes from bright LED, to daylight, to that just warm glow that makes you look great. It has a dehumidifier on it when it's in bathroom or spa area where there's steam it stays crystal clean and bright. Also the seller who we bought it from here on Amazon was absolutely exceptional.
I was so delightfully surprised to find such a high-quality product for a great price, thank you very much."
4. "I really like this mirror. So far, there's nothing wrong that I can see. It came packaged very well and very easy to install. I wired it to the switch. I purchased it for my daughter's bathroom and she loves it. Everyone who sees it loves it as well. Would purchase again."
5. "Really good quality mirror. Not your typical mirror, but the backlit option makes this mirror really stand out. Did a lot of research before purchasing but was happy that I went with this option."
Awandee cherishes our customers and considers them to be our greatest asset and our driving force. It is our mission to provide the best service to our customers.